HOLYOKE — While city officials are expected to discuss Whiting Farms Road property on Tuesday, a group of residents have already made up their minds on the matter.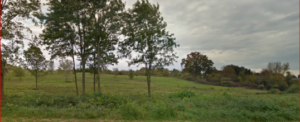 Members of Holyoke First, a group of predominately city residents who organized in the summer of 2012 to protest Walmart opening a store, say they don't want a car dealership on the 19-acre property, instead want a mixed-use development.
"Holyoke is changing. We should be going forward, not back and doing the same crap that got us into so many problems to begin with," Gayle Keith, a Farnum Drive resident, said. "It shouldn't be just the same old shlock. I'm afraid a car dealership really falls into the shlock category. It should be something we can be proud of. We don't deserve 19 acres of lights and asphalt behind us."
The City Council Ordinance Committee and the Planning Board will host a joint public hearing at 6:30 p.m. on Tuesday in City Council Chambers. Tonight's discussion will focus on the findings and conclusions that can be drawn from a community survey regarding the site.
The group says their complaints stem from the history of the neighborhood.
"Houses along Whiting Farms Road have been here since 1959. They were here before the mall, there were here before K-Mart was built," said Helen Norris, a former Ward 3 City Councilor.
Norris says residents take issue because when many moved to the neighborhood, the Whiting Farms Roads site was zoned industrial park – which allows for such businesses including light manufacturing, warehouses and self-storage facilities.
The site was re-zoned five years ago to a general business designation when Lowe's Home Improvement sought to open a store.
Holyoke Gas and Electric Department awarded a contract this summer for the property to Gary Rome Hyundai.
Gary Rome, who has a dealership at 1000 Main St. in the city, submitted a $2,050,000 bid for the property.
"I expect that the agreement will be signed soon, and that it will be contingent upon the buyer obtaining certain approvals, including any necessary zone changes," Holyoke Gas and Electric Manager James M. Lavelle said earlier this month.
The deal requires a zone change, from a general business to a highway business designation.
Holyoke First members seek to change the zone back to industrial park. "The people knew when they bought their homes that this could be built as industrial park and they were fine with that, they knew that upfront," Norris argues. "They didn't buy their homes thinking there was going to be a Walmart, or a car dealership across the street. Such a commercial entity would change the type and volume of traffic on the road."
She argues that it will negatively affect the value of homes in the neighborhood, "It's a cliché to say, but it really isn't fair to the homeowner and taxpayer. Their taxes don't change but they're given the backseat and their home value goes down. What they should put there should lift everybody."
The group hopes to see a mix of commercial and residential use of the 19 acres. "There has been a lot of interest in housing for residents over 55 [years old.] Maybe some more co-ops, some little offices," said Keith. She believes many residents move out of the city because they can't find suitable housing when they seek to move from a house to a smaller space.
She added, "I'd like to see something that's similar to the Village Commons in South Hadley, which would be nice up there. It would enhance the neighborhood and increase the neighborliness, it wouldn't be something that's going to destroy it."
Gary Rome met with residents in the neighborhood at a citizens forum for Ward 5 residents, hosted by City Councilor Linda Vacon on Sept. 18.
Keith, who attended the meeting, said Rome was open to discussing his proposal and told residents he intended to keep his Main Street dealership and bring 50 more jobs to the Whiting Farms Road location.
Kris Mercier, another Farnum Drive resident, expressed concerns regarding the longevity of his business. "Who is to say that by expanding they're not going to shoot themselves in the foot and go out of business?" she said. "Whatever goes in there, if the zone is changed to highway business and then we get some car dealership or whatever, what happens if that doesn't make it? What if they close in three years? Then we're going to have blight right next door to us."
As the land is owned by Holyoke Gas and Electric, Norris says they – as Holyoke residents -have "a right to speak to it's use."
"We're hoping that the City Council will be on the residents' side, the city's side," Norris said. "We hope they do what's best – not for Gary Rome – but for the city of Holyoke and all of its residents."
Keith added, "At the very least, we want them to know we're putting up a fight."
The joint City Council Ordinance Committee and Planning Board public hearing will be held at 6:30 p.m. on Tuesday in City Council Chambers, in City Hall. The meeting will be recorded.
Source: MassLive.com